News
British and Australian regulators strengthen cooperation on fintech through Enhanced Cooperation Agreement 
23 March 2018
The United Kingdom's Financial Conduct Authority ('FCA') and ASIC have signed an Enhanced Cooperation Agreement between their Innovation Hubs to extend their existing agreement of cooperation and coordination on fintech innovation.  This agreement forms part of the broader Fintech Bridge signed by the UK Chancellor of the Exchequer and the Australian Treasurer.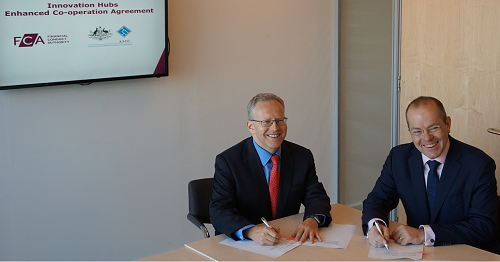 Mark Adams, ASIC Senior Executive Leader, Strategic Intelligence signing the agreement with Christopher Woolard, FCA's Executive Director of Strategy and Competition
ASIC releases tender for Natural Language Processing Trials 
23 February 2018
ASIC has released a tender for Natural Language Processing Trials via AusTender - ATM ID ASIC CPX65. 
The tender is for provision of pilots of Natural Language Processing technologies, including approaches to common supervisory scenarios encountered by ASIC with a view to providing natural language processing technologies solutions.   
For more details, please go to AusTender and download the tender documents. You can search the tender by either the ATM ID or Keyword. 
Find out more information about the tender 
The tender will be closed at 9:00 am, 19 March 2018. 
If you have any questions in relation to this Tender, please email Tenders@asic.gov.au.
ASIC licenses first crowd-sourced funding intermediaries
11 January 2018
ASIC has licensed the first crowd-sourced funding (CSF) intermediaries under the new CSF regime.
Seven companies have been issued with Australian Financial Services (AFS) licence authorisations to act as intermediaries able to provide a crowd-sourced funding service. With the grant of these new authorisations eligible public companies will now be able to use the CSF regime to raise capital by making offers of ordinary shares to investors via the on-line platform of one of these intermediaries.
---
For older news, visit the Innovation Hub news archive.