ASIC Wealth and Funds Management Update - Issue 3 - December 2016
Issue 3, December 2016
Contents
Weathering the Storm
Storm Financial decision gives guidance to the industry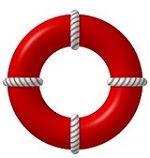 The Federal Court recently found that the Cassimatises had breached their duties as directors, and that Storm had provided inappropriate advice to certain investors who were at or approaching retirement, with few assets and little or no prospect of rebuilding their financial position in the event of significant loss.
While the case dealt with pre-FOFA advice, the Court made a number of useful findings that the industry would do well to take note of:
Storm breached its obligations under former s945A by failing to:

reasonably consider or investigate alternative investment strategies
adequately determine the objective of its advice (requiring measurement and quantification)
conduct an adequate sensitivity analysis, and
reasonably consider the extent to which investors could fund interest payments from their own resources if cash reserves were exhausted.

Storm also inappropriately:

classified the investors as 'Balanced' when they were most likely 'Conservative', and
treated the family home as an asset in the investment portfolio where the investors could not reasonably tolerate any risk of selling it.

It was irrelevant that the investors ultimately agreed with the advice and proceeded.
'...to the investors in the pleaded class who were amongst the most vulnerable, there was… no substantial steps taken by Mr or Mrs Cassimatis to prevent… inappropriate advice to them to invest using the Storm model. Instead, Mr and Mrs Cassimatis exercised their powers in a way that had the effect of encouraging the application of the Storm model to persons such as those…'.
Fees and costs disclosures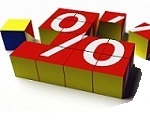 Better understanding of fund fees and costs improves your members' super experience. While investment returns can go up and down, every year consumer returns are going to be affected by fees and costs. It is essential that members can accurately determine and compare the fees and costs that they are paying.
Trustees and fund managers transitioning to the updated disclosure rules and a better, more consistent approach will help make it easier for consumers to see exactly what they are paying, empowering to make better choices.
The transition period was scheduled to end by 1 February 2017. In response to industry raising concerns that information provided for some products by this date may not be reliable and may not assist consumers in comparing fees and costs, ASIC has decided to extend the transition period to 30 September 2017.
Trustees and managers wanting to take advantage of this extension in relation to a particular PDS must advise ASIC in writing of their intention by 31 January 2017. In addition, information about the fees and costs that would be required to be included in this PDS had they complied with the updated fees and costs disclosure requirements, must be provided to  ASIC before 1 March 2017. Trustees and fund managers that do not want to take of advantage of this extension will have to comply with the updated requirements by 1 February 2017. Any trustee or fund manager that has already adopted the updated requirements will not be required to provide this information to ASIC.
ASIC will be amending ASIC class order 14/1252 Technical modifications to Schedule 10 of the Corporations Regulations [CO 14/1252] to give this extension effect shortly. We will also publish instructions and the forms to provide ASIC with the above information by trustees and fund managers seeking to take advantage of the extension. The notification in writing to ASIC that a trustee or manager wants to take advantage of the relief in relation to a PDS needs to be made by email to feeandcostdisclosure@asic.gov.au
Unfair Contracts Act:  How the changes might apply to you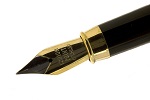 From 12 November 2016, the existing unfair contract term protections for consumers were extended to cover standard form small business contracts where the upfront price does not exceed $300,000, or $1 million for multi-year contracts. Interest payable is excluded when calculating the upfront price payable.  A small business contract is a contract for:
a financial product, or
the supply or possible supply of financial services.
At least one party must be a small business, defined as a business that employs fewer than 20 people at the time the contract is entered into.
A term in a standard form small business contract is 'unfair' if:
it would cause a significant imbalance in the parties' rights and obligations arising under the contract
the term is not reasonably necessary to protect the legitimate interests of the party that would benefit from its inclusion
the term would cause financial or other detriment (e.g. delay) to a small business if it were to be applied or relied on.
ASIC is responsible for enforcing the unfair contract terms in relation to financial products and services.  For other goods and services, enforcement responsibilities are shared between the ACCC and state or territory consumer protection agencies.
This summary is just a snapshot.  For comprehensive guidance please review the full provisions of the legislation, and exemptions. 
Life insurance claims handling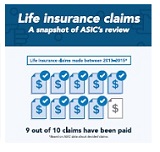 On 12 October 2016, ASIC issued Report 498 Life insurance claims: an industry review (REP 498), which set out the results of our industry review of life insurance claims practices and outcomes.
We found that approximately 90% of claims are paid in the first instance with around $8.2 billion in net benefit payments made in the year ending 30 June 2016.
While not finding evidence of cross-industry misconduct, ASIC's review identified issues of concern in relation to higher claims denial rates and claims handling procedures associated with:
particular types of policies: The rates of declined claims were highest for total and permanent disability (TPD) cover (average declined claim rate of 16%) and trauma cover (average declined claim rate of 14%)

considerable  variation in declined claims among insurers, with TPD denial rates being as high as 37% and trauma up to 25% for some insurers; and

the most common types of life insurance disputes were about the evidence insurers require when assessing claims (including surveillance), and delays in claims handling.
ASIC's review also found that there were higher claims denial rates in relation to insurance policies sold direct to consumers with no financial advice (compared to policies sold through advisers and group insurance policies).
Actions to raise claims handling standards
In Report 498, ASIC also set out the following actions to improve standards in life insurance claims handling:
establishing, with APRA, a new public reporting requirement for life insurance industry claims data, disputes data and claims outcomes, on which work has already commenced
recommending to Government the strengthening of the legal framework covering claims handling
recommending the  consumer dispute resolution framework for claims handling be strengthened
targeted follow-up reviews by ASIC on areas of concern including individual insurers with high decline and dispute rates, as well as a new major review of life insurance sold directly to consumers without personal advice, and
strengthening industry standards and practices, including through extension and enhancement of the life insurance code of practice.
Fees for no service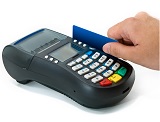 On 27 October 2016 ASIC released a report outlining the findings and outcomes to date of a project to review the extent of failure to deliver ongoing advice services to financial advice customers who were paying fees to receive those services.
The report summarises ASIC's work to ensure customers are fairly compensated. The report is part of ASIC's Wealth Management Project which is focusing on the conduct of the largest financial advice firms, including the advice arms of AMP, ANZ, CBA, NAB and Westpac group.
The failures set out in the report relate to instances where customers were charged a fee to receive an ongoing advice service, but had not been provided with this service because:
The customer did not have an adviser allocated to them, but was      charged a fee for ongoing advice – usually by deduction from the      customer's investment products, or
The adviser allocated to the customer failed to deliver on their      obligation to provide the ongoing advice service and the licensee failed to ensure that the service was provided.
To date, approximately $23.7 million of fee refunds and compensation has been paid, or agreed to be paid, to over 27,000 customers.
Helping to navigate financial advice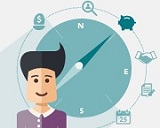 A new online toolkit developed by ASIC's MoneySmart will enable Australians to better understand and navigate the financial advice process.
ASIC's MoneySmart Financial advice toolkit is a free educational tool that breaks down the complexity around the financial advice process.  It will assist consumers with their research and help them evaluate the financial advice they receive.
ASIC's MoneySmart Financial advice toolkit provides an overview of the financial advice process and gives impartial guidance on:
identifying financial goals and advice needs;
tips on choosing an adviser
preparing to meet a financial adviser
understanding your Statement of Advice
reviewing your financial situation.
Consumers can use the toolkit to create a customised 'to do' list which they can modify to suit their personal financial needs.  The toolkit also includes links to ASIC's Financial Advisers Register where consumers can check a financial adviser's credentials – their licence, authorisations, experience and qualifications, and whether they have ever been banned or disqualified from providing financial services.
ASIC Insights 2016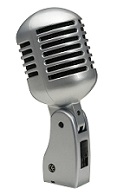 ASIC Insights 2016, for superannuation and managed investments, was hosted at ASIC offices in Melbourne, Sydney, Perth, Brisbane and Adelaide on Thursday 15 September 2016.  This session updated stakeholders on our recent work program and regulatory issues in the managed investments and superannuation sectors.
Any questions regarding the session should be emailed to andrea.corfield@asic.gov.au.  If you wish to join our email list for future sessions, please email your details, including name, company and email address, to junita.aberg@asic.gov.au.
Happy Christmas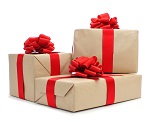 As this will be our final issue for 2016 we wish you a safe, happy and prosperous festive season and 2017.